5 Favorite Verbal Dumps From Trump
 Most people at this point are well aware of Trump's love for Mexico and the people it brings to the U.S., but what are some other things Trump has said in his years as a wealthy billionaire?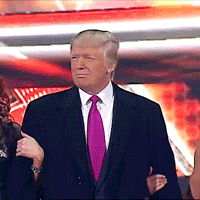 "All I do is tell the truth" -Donald Trump on CNBC August 11, 2016
After continuously delivering newsworthy and awe-inspiring statements, Trump has made sure that the U.S. is well aware of his stances and what he wants to do about them, regardless of whether or not those stances will change in a few weeks.  Here is a small list of some other things Trump has said that makes one wonder, how does he come up with these? Is he crazy or maybe just needs a snickers?
OBAMA FOUNDED ISIS
- Aug 10th 2016
It's key to note that while ISIS may have grown during Obama's term, calling him the founder may be a little silly.  Almost as silly as saying Christopher Columbus discovered the Americas. Apparently, however, this is exactly what Trump believes happened according to his speech at Broward County Arena on August 10th.
But yes, Trump blamed Obama for starting ISIS, despite multiple venues stating the militant start date in 1999, before joining Al-Qaeda in 2004, to eventually becoming what we see today as the Islamist State group. Since Obama was only recently initiated into the senate and still teaching constitution law at this time, maybe he was just a teacher with a little more pull than average? *Conspiracy Theory.*
Possibly the best portion here to settle all doubt is that in an interview with radio host Hugh Hewitt, Hugh asked Trump if he meant that Obama aided in the vacuum that eventually made ISIS into what it is today. Trump turned down this notion, and stuck with the idea that Obama formed it.  Possibly with Hillary as a sidekick.
It's also important to note that yes, evidence suggests the US has fed money and weapons to various terrorist groups over the years, without knowledge of what they would turn into. However, there is no evidence to suggest Obama himself founded ISIS. 
"IF IVANKA WEREN'T MY DAUGHTER, PERHAPS I'D BE DATING HER"
- The View, 2006
 Yes so Trump said it.  He has a history of creepy photos and statements involving him and his daughter Ivanka.  However, for it to be so publicly visible makes one question if he just doesn't know any better or is a creepy troll.  The statements ranging from dating his daughter to her having "the best body" is reminiscent of a southern family reunion where love can be seen not far from the apple tree.  
In a video here that aired on "The View," Trump made the remark that has come back to haunt him repeatedly. Now yes, it's hard to deny that Ivanka may be a lovely woman, but it's obvious even she could tell that he probably crossed the line based on her reaction.
"THE OTHER THING WITH THE TERRORISTS IS YOU HAVE TO TAKE OUT THEIR FAMILIES"
- December 2015
Although that is theoretically an option, it is also definitely a war crime.  In a Fox News interview, Trump had stated that in order to combat ISIS, we also need to take out their families.  He later stated that he said no such thing, and simply that we should "go after them," which is a statement that's about as clear as mud.
Trump has also made it clear that he believes waterboarding is a useful tactic. And no, waterboarding is not the thing where you are pulled behind a boat on a board and doing sick jumps, it is a form of torture. Here is another video of him talking about the torture tactic. In another video, he then emphasizes via news quote that we will have to stay within the realm of law, despite torture not being allowed in the Geneva Convention and the Pentagon Uniform Code of Military Justice.
GLOBAL WARMING IS A HOAX CREATED BY THE CHINESE
- November 2012 Tweet
Errr, whether or not it was created by the Chinese, the majority of scientists across the world support the science and theories behind global warming. However, that doesn't mean all of them believe it was human related.
After claiming it was a joke, Donald ranted about how China doesn't care about global warming and how they benefit from us. Then in December 2015 in Hilton Head S.C., Trump told a crowd, once again, that global warming is mostly a hoax and a money maker.
Whether or not it is true that global warming *could* be a hoax, his assumptions on China are not supported and appear to be based on coincidences involving their poor laws surrounding pollution protection and the fact that in recent years, they have undergone growth.
In fact, Donald's Twitter has been seen, on several instances, calling global warming an overall hoax.
"I DONT WANT TO BE PRESIDENT"
- CNN Interview, September 1987
The most interesting of all the the things Trump has spewed is the amount of times he has juggled with the idea of a presidency. Also, jumping back and forth (and in and out) of the democratic and republican party on several occasions.  
In 1987, Trump had stated he did not want to run for president. In 1998, he had switched from the Democratic to Republican party and had dabbled at the idea of a presidency. He also ran in the Reform Party in 2000, considered a bid in 2004, etc. 
It's also strange to note that in 2009, Trump stated that if he were to run for president, that he should be shot.
Truthfully, it's hard to verify this tweet existed since it was deleted and seemed to have come from only one source.  However, considering how Donald is more in and out than Monica on Bill it's always worth reconsidering if he ever really means anything he says.
Disclaimer: This article contains absolutely no original research. None. Nada. Zip. Special thanks to PolitiFact.com; FactCheck.org; Youtube.com, and various other sources, the sources of virtually all of the material presented herein.



Please reload